Arianne Rand will be at PTArts with her unique collection of Oaxacan textiles.  
Dates: Saturday 12/11 and Sunday 12/12
After the 12th, please call for an appointment to view the show.
450 Alger St.  Fort Bragg, CA  95437

Proof of vaccination & masks required
The show will remain in the gallery until December 28th
After the 12th of December please drop by Wednesdays 10:30-12:00 pm
or call for an appointment.

Esda Studio is a social design lab and slow design studio based in the city of Oaxaca, Mexico. It was founded in 2017 by the owner and creative director Arianne Rand. Inspired by the matter-at-hand, Esda Studio collaborates with both master artisans and little- known artisan families and collectives, mostly in the state of Oaxaca but also in Chiapas and Guerrero. The artisans, primarily weavers of cotton, wool and native palm, work mostly in their home studios. The goal of Esda Studio is to participate and support innovations and revivals within artisan communities, spearhead design collaborations, and help facilitate a path towards greater wellbeing and self-sufficiency for traditional artisans living and working in Southern Mexico.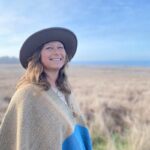 Arianne Rand is an interdisciplinary artist and barefoot designer who has been living and working in Oaxaca, Mexico since the early 2000's. Esda Studio is the latest manifestation of her decade + long interest in working with folk artists and weavers in Southern Mexico, helping them find markets abroad for their work and organize their enterprises accordingly. In her own creative work, she tends towards the experimental use of materials and an exploratory approach to form and color. Her admiration for the traditional forms and discipline of native weavers, her desire to learn more about their techniques and designs, is never ending. It has inspired her to work with them in support of collective intelligence and cultural survival.  

Gallery of work and artists
Click on images to scroll through
Sale location: 450 Alger St.  Fort Bragg, CA  95437